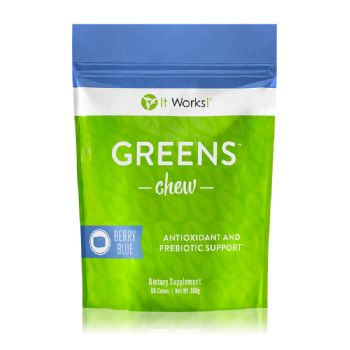 $ 30.00
Loyal Customer Price
Retail Price: $ 50.00
Greens™ Chew
Antioxidant and Prebiotic Support
Snack your way to better health with a deliciously sweet blend of fruits and veggies in a super soft chew. With a nutritional boost of prebiotic fiber, support for healthy blood pressure levels, and free-radical fighting antioxidants in every serving, Greens Chew packs a powerful punch to support your overall health and wellbeing.
Boosts your body's natural defenses against free radical damage
Supports healthy nutrition and digestion with prebiotic dietary fiber
Contains antioxidant-rich ingredients
Fueled by Pterostilbene to help maintain healthy blood pressure levels and promote heart health
Delicious blueberry-filled flavor
These statements have not been evaluated by the Food and Drug Administration. These products are not intended to diagnose, treat, cure or prevent any disease.
Individual results can and will vary. These descriptions are not intended to make claims that these products can be used to diagnose, treat, cure, mitigate or prevent any disease. These claims have not been clinically proven or evaluated by the FDA or any regulatory or governmental agency.