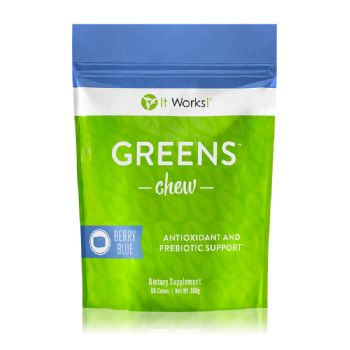 $ 30.00
Loyal Customer Price
Retail Price: $ 50.00
Greens™ Chew
Antioxidant and Prebiotic Support
Snack your way to better health with a deliciously sweet blend of fruits and veggies in a super soft chew. With a nutritional boost of prebiotic fiber, support for healthy blood pressure levels, and free-radical fighting antioxidants in every serving, Greens Chew packs a powerful punch to support your overall health and wellbeing.
Boosts your body's natural defenses against free radical damage
Supports healthy nutrition and digestion with prebiotic dietary fiber
Contains antioxidant-rich ingredients
Fueled by Pterostilbene to help maintain healthy blood pressure levels and promote heart health
Delicious blueberry-filled flavor
†These statements have not been evaluated by the Food and Drug Administration. This product is not intended to diagnose, treat, cure, or prevent any disease.